Online sales
Online sales have proved to be extremely successful during the lockdowns
It wasn't long before we realised that we might have to expand into the online market.  Facebook facilitated this by already having selling pages accessed by people who live locally.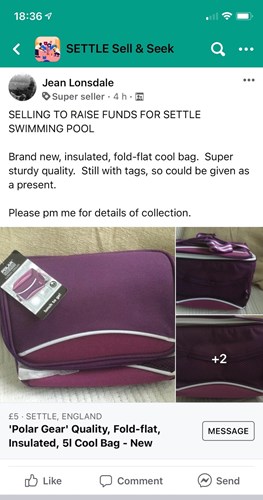 Many items are too large to be stored in the shop, examples of which are gym-sized fitness trainer, sailing boat, complete kitchen, bikes, cots, beds, wardrobes and many other items that would be impossible to sell from our small retail outlet.  Hence our online selling commenced.  Many items are brought to our houses, from where we do our selling.  Often the articles remain in situ (eg the kitchen and dinghy).  We photograph them and arrange to meet the buyers at the premises of the donor.  We decide on a price based on the 'sold' price for the same or similar item on eBay.  If an item is new, we usually ask for half the new price.
Often people will contact us directly to ask if we could sell their bed, or dining table and chairs, for them.  The more we sell, the more people get to know us.  During the pandemic we have been careful with sanitising our hands and the articles if practical.
As the donations increased, and the virus was still part of our lives, we realised that it was no longer practical to take donations in the shop, as everything that was given to us required a period of three days' quarantine…so we bought a container.  This is located at the pool. Prior to the last lockdown, this was extremely successful, collecting on Tuesdays and Fridays between 09:30 and 12:30.  Items which were donated on Tuesdays, were quarantined until Friday, before being transported to the shop, or home for online selling.  Friday's donations remained in the container until Tuesday.  We were fortunate to have the help of a local lady, who due to Covid was unable to continue her catering business, but owned a pick-up truck, which was ideal for transporting goods to the shop.